NO SURPRISE ACT/RATES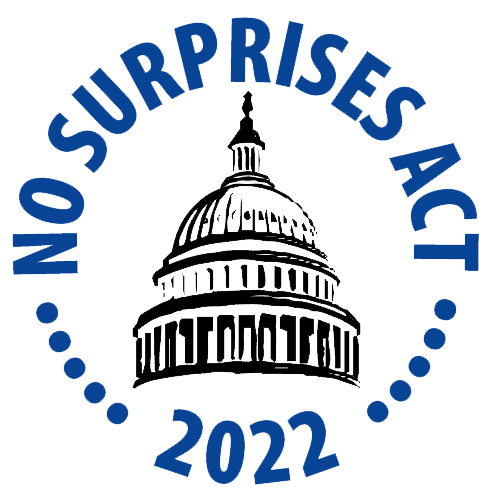 ENDING SURPRISE MEDICAL BILLS
SEE HOW NEW RULES HELP PROTECT PEOPLE FROM SURPRISE MEDICAL BILLS AND REMOVE CONSUMERS FROM PAYMENT DISPUTES BETWEEN A PROVIDER OR HEALTH CARE FACILITY AND THEIR HEALTH PLAN.
HELP PEOPLE TO HELP YOU.
You Have the Right to Receive a Good Faith Estimate of Expected Charges under the No Surprises Act
You have the right to receive a "Good Faith Estimate" explaining how much your medical care will cost for any non-emergency items or services. Under the law, health care providers need to give patients who don't have insurance or who are not using insurance an estimate of the bill for medical items and services.
If you are a self-pay patient, we will provide you with a Good Faith Estimate in writing through the patient portal at least 1 business day prior to your appointment. You can call us or email us to request self-pay rates before you schedule an appointment.
If you receive a bill that is $400 or more than your Good Faith Estimate per date of service, you can dispute the bill. Email us with a copy or picture of the Good Faith Estimate and your bill from us for prompt resolution.
Make sure to save a copy or picture of your Good Faith Estimate
FOR QUESTIONS OR MORE INFORMATION ABOUT YOUR RIGHT TO A GOOD FAITH ESTIMATE, VISIT WWW.CMS.GOV/NOSURPRISES.
COUNSELING/ THERAPY (40 – 45 MIN)
Mental Health Comprehensive Assessment – $150
Follow ups – $125
Group Counseling – $50 per session
IOP – $250 per 3 hours per day
Please call for Discounted Rates
MEDICATION MANAGEMENT
Psychiatric Intake – $290
Follow ups – $150
Please call for Discounted Rates
MEDICAL RECORDS
Copy or print out – $1 per page
Combination of records or records summary – $25 minimum plus TBD by office manager based on the amount of records and pages.
LETTER TO ORGANIZATIONS
Excuse letter for school – Free
Letter from the office – Please call the office: 732-955-4141
Please call for Discounted Rates
Letter from the counselor – $80
Letter from the doctor, APN or PA – $120
* No show or last than 24 hours cancellation fee – $60
* All service prices shall be disclosed to the patient and agreed by patient before the services started.
* All payments shall be made prior to the services.
* We accept Medicaid, Medicare and all Major Medical Insurances.
* If the the service has been rendered the payment is final.